Hi everyone,
Today's post is going to be about the books that I read in October and my thoughts on them. I read six books in the month of October.
---
The Importance of Being Earnest by Oscar Wilde
The first book I read in October was The Importance of Being Earnest by Oscar Wilde. This is a comedy and a play (a bit different from what I normally read) and I absolutely loved it! I usually find it a lot harder to identify with the comedic works of the past because our sense of humour and our standards change, but this play is genuinely funny! Of course it had to be; it was written by the most eccentric Victorian author to exist. The piece plays on the theme of mistaken identities. I would love to see this on stage!
Who's Afraid of Virginia Woolf? by Edward Albee
Funnily enough, I was drawn to this book because of the title (if you don't know, I absolutely love Virginia Woolf; one of my favourite authors). The play isn't actually about Virginia Woolf so that was my first surprise here haha. I decided to read this play alongside a scene-by-scene breakdown on SparkNotes (that takes me back to my school days!) after reading the first act and not really understanding what it was about, where it was going and why it was so popular and so studied in English schools. The play focuses on only four characters in one room on one night. It's a dark comedy and, I found that using the SparkNotes guide alongside it helped a lot because the play has a lot of meaning and symbolism in its pages.
It's a bit unusual for me to read two plays in one month!
The Corset by Laura Purcell
A historical fiction book that's spooky and set in Victorian times. That's my reading tastes in a nutshell so I knew that I would love this book. I read The Silent Companions by Laura Purcell around this time last year so I knew I liked her spooky, gothic writing style. The book follows Dorothea and Ruth. Dorothea Truelove is young and wealthy; she is also interested in phrenology and what makes someone a criminal. Ruth is poor and is awaiting trial for murder. Dorothea's hypothesis is that the shape of someone's skull can determine whether they will or will not become a criminal later in life. Meeting Ruth completely throws this upside down as Ruth believes she has a supernatural power to kill people with her needle and thread. I really loved this book! It was captivating and beautifully written. I was hooked from the start and could hardly put it down. It was also such a good read for this time of year, with the perfect amount of a grisly prison setting vs spooky, atmospheric writing.
Practical Magic by Alice Hoffman
I watched the film adaptation of this book a little while ago (starring Nicole Kidman and Sandra Bullock) and knew that I wanted to read the book come Hallowe'en. The story follows the lives of two sisters, Sally and Gillian Owens. For years, the Owens' women have been blamed for everything bad that's happened in the town. The sisters forever felt like outsiders though their elderly aunt's encouraged the rumours of witchcraft following them around. As the sisters grow up, their lives go down different paths. One follows love and one follows lust but their magical bond brings them back together again… I enjoyed this book but I did think the film adaptation was better (which is a very rare occurrence for me!)
The Haunted Hotel by Wilkie Collins
Wilkie Collins is the king of atmospheric, sensational novels. I love The Woman in White and I really enjoyed The Haunted Hotel too. The book is set in Venice and it's an absolutely perfect setting for this type of novel. The ghost of Lord Montberry haunts the Palace Hotel in Venice. At the centre of it is Lord Montberry's terrifying wife, Countess Narona, and her mysterious brother. This book is your typical horror, ghost story with a dark plot at the centre of it.
The Doll Factory by Elizabeth Macneal
I've wanted to read this book for ages! Once again, it's a historical fiction set in the Victorian period (I'm nothing if not predictable haha). This time, the book is about The Great Exhibition that was erected in Hyde Park in the 1850's. I think this was my favourite book I read this month. The book mainly focuses on three characters: Iris (a doll painter and an aspiring artist), Silas (a collector/taxidermist/lover of all things strange), and Louis (a pre-Raphaelite artist). Iris is asked to model for Louis Frost on the condition that he teaches her how to paint. Iris and Silas meet at the Great Exhibition where both Silas' and Louis' work is exhibited. Though for Iris it was a fleeting meeting, a memory, for Silas it becomes something so much more; an obsession. The book is chilling but there are incredibly warming parts at times. It is atmospheric and, with such an emphasis of the Great Exhibition, art and romance, is incredibly beautifully written. It does feel like this book could have been written by Dickens which is such a great compliment as I love Dickens' writing, but also because it feels so authentic and really depicts the dark and morbid underground of London well.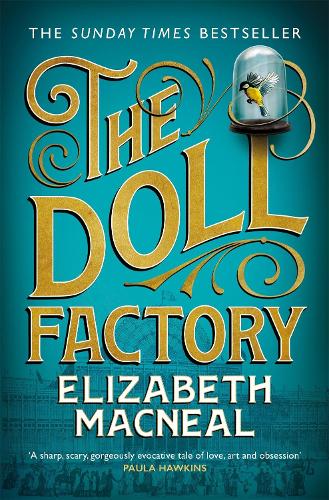 ---
What books did you read in the month of October? Let me know in the comments below!
Thanks for reading!
Love, Zoë x