Hi everyone,
Today's post is going to be talking through the books that I read in the month of February. I felt like I didn't really read much this month but I was definitely happy with what I did read!
---
Living the Sutras by Kelly Dinardo and Amy Pearce-Hayden
Living the Sutras is a paractical guide to understanding the wisdom of classical yoga philosophy and how best to incorporate these teachings into your life. It is a comprehensive guide that is relatively simple to understand and apply. Each chapter also has a short task for you to complete that will help you on your way to implementing these practices and engaging with classical yoga philosophy. I liked reading the book whilst doing the tasks alongside. If you're new to the sutras and the philosophy of yoga, this is the perfect place to start!
In Praise of Shadows by Jun'ichirō Tanizaki
This is my first time reading any Japanese literature. I said in my 2021 goals that I wanted to read more classics from a wide variety of countries, not just UK and USA. My boyfriend owns quite a lot of Japanese literature so I have borrowed a couple off of him and this is the first one I chose to read.
I enjoyed reading this essay piece by Tanizaki as it was a great introduction to his writing style; in-depth, descriptive, sometimes amusing. This essay compares the traditional Japanese aesthetics that the author thinks have been lost to the more harsh Western aesthetics. From toilets, to food, to temples, to dance, to electricity…
The essay focuses on the delicacy, the calmness, the serenity of Japanese aesthetics and architecture and it was full of beautiful description. I would be interested to read some of his fictional writings now!
Before the Coffee Gets Cold by Toshikazu Kawaguchi
In a alleyway of Tokyo there is a small café called Funiculi Funicula. In this café, one can return to the past (or the future) by drinking a cup of coffee. This coffee must be drunk before it gets cold in order to return back to the present day (amongst other rules that must be followed).
In this book, we meet four different people who choose to time travel in order to; confront the lover who left them, talk to a loved one before they suffered from Alzeheimer's, to meet her sister one last time, and to meet a daughter they never got the chance to meet.
It was a lovely book. The stories were heartfelt and incredibly emotional at times. The ending of each story was so bittersweet. I know that some people felt the book was repetitive, but I quite enjoyed that each story followed a similar pattern; it allowed me to read the book quickly and easily because it flowed so well. When reading this book, I instantly felt like it would make a great theatre play – the way it is written, the character development and relationships in such short vignettes would be perfect! Time-travel is explored a lot in books but I felt like this story offered a new point of view on it and the rules made the book exciting and captiviating.
Prince Caspian by C.S. Lewis
I read this as the fourth book in The Chronicles of Narnia book series by C.S. Lewis (though it was the second book to be published).
Though this book is good and it was really fun to have Peter, Susan, Edmund and Lucy return to the world of Narnia again, it wasn't quite as magical as The Lion, the Witch and the Wardrobe (though I feel like I will be saying that for every book). It was really interesting to read about how Narnia had changed since the Pevensies had since been there (a year for them but one thousand Narnian years!) and I feel like that really offered a new perspective on the world, much like we got a completely new perspective in The Horse and His Boy.
I still think the series continues to be wonderfully magical and it's so nostalgic for me to re-read the series. I am thoroughly enjoying the experience.
The Master and Margarita by Mikhail Bulgakov
This is my first time reading any classic Russian literature and it has been an absolute rollercoaster of emotion from start to finish. I've picked possibly the most famous classic Russian literature piece for my first time and I have such mixed feelings on it. I know this book has a cult following so bear with me…
The book starts with the devil, Woland, visiting Moscow with his henchmen (including the giant talking cat). Woland meets Berlioz who is a writer in Moscow. He predicts Berlioz's death by decapitation which instantly comes true (not a spoiler, this happens in the first few pages!) Berlioz's friend, Ivan Homeless sees this accident and heard Woland telling Berlioz a story about Pontius Pilate. Ivan attempts to confront Woland and his gang, chasing them through Moscow, but ends up in a mental asylum instead. There he meets the "Master" who has been locked away for writing a novel about Jesus and Pontius Pilate (exactly what Woland witnessed and discusses in his story before). Both stories eventually tie together and, the best way I can describe this, is that chaos ensues in Moscow; there are magic shows, a party hosted by Satan, flying witches…
The Master and Margarita is the kind of book that, if there was a film adaptation, would be directed by Wes Anderson. It's crazy and full of magical realism; you don't know what's real and what's not, those lines are completely blurred. I don't think I've ever read a book that is as weird as The Master and Margarita, and I think that's one of the many reasons why it has such a cult following.
I didn't get this book when I first started reading it. I enjoyed the first part, really struggled with the middle, and thought the ending was good. It was like nothing else I had ever read and I was not completely clued up on the time period it was written either (Stalin's Russia).
Since reading this book, I've done a whole lot of reading and research on the context surrounding it, its publication and Bulgakov's relationship with Stalin. This is a great post for futher reading.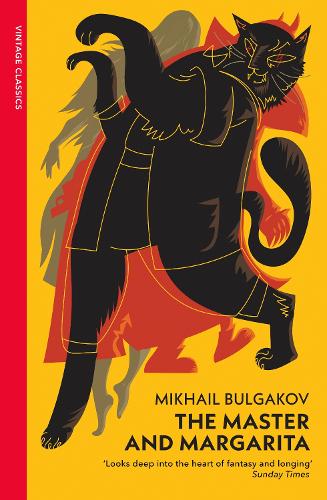 ---
And that's everything I read in February 2021!
What did you read in the last month?
Thanks for reading.
Love, Zoë x