Hi everyone,
Today's post is going to by my August wrap-up. This past month I read a total of five books and it was a pretty mixed bag (some were five star reads, and I gave the lowest book rating I've ever given something!)
So without further ado…
Robinson Crusoe by Daniel Defoe
Robinson Crusoe is about an English sailor who becomes marooned on a deserted island for nearly thirty-years. One day he discoveres a footprint in the sand and learns that he is not entirely alone. Published in 1719, Robinson Crusoe is often regarded as the first English novel.
It's definitely important to remember when reading this that this book was published so long ago. You can't really put it against today's morals, but there are many problems with this book regarding slavery, colonisation and views towards native people. If you accept that this is because it was published so long ago and attitudes were completely different back then, then the book is enjoyable. I particularly loved reading this book during this hot month we've had in the UK. The book is slow at time but the slowest, most detailed parts are the best and the book has many insightful meditations on religion, survival and spirit.
-3.5 stars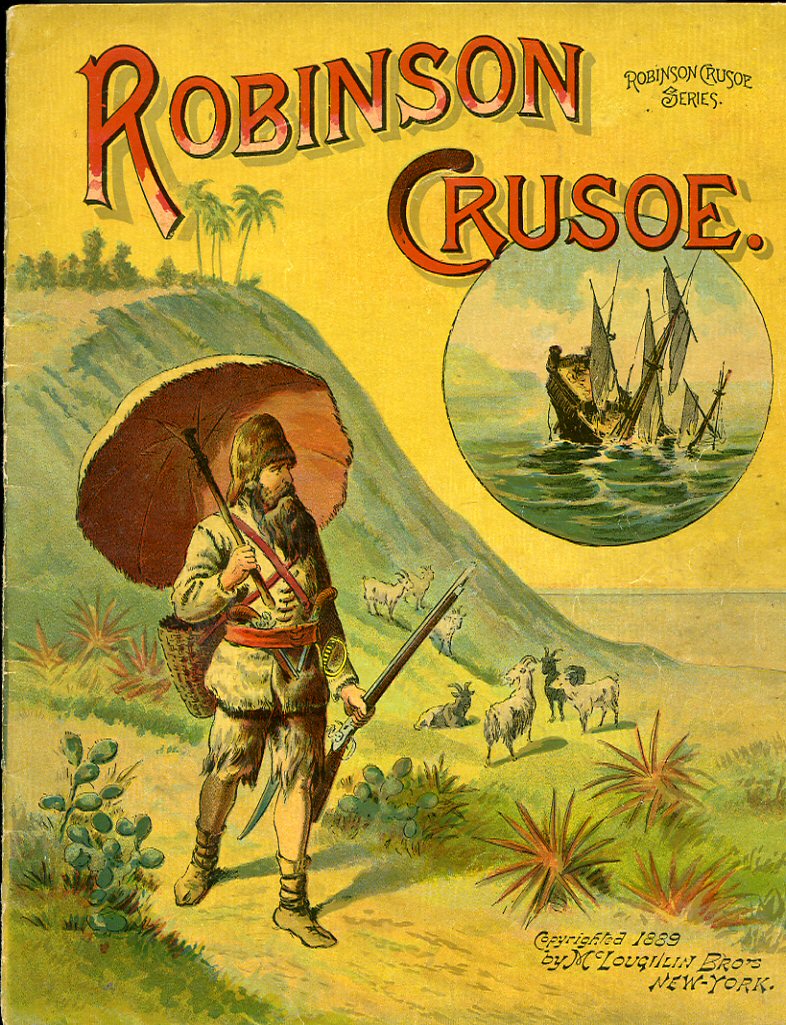 Kidnapped by Robert Louis Stevenson
David Balfour heads on a journey to meet his uncle. When he arrives, he realises he has been tricked by him and his uncle has stolen his inheritance, kidnapped him and arranged for him to become a slave in the USA. That is, until the ship runs into trouble and David is rescued by Alan Breck Stewart, a Jacobite fugitive.
This is a clasic adventure novel full of beautiful and vivid descriptions of the Scottish Highlands. The book is set in 1751, after the Jacobite revolution and King George rules the empire. This history follows David on his journey. David is a likeable hero who you really start to root for. I'm not sure why this book is his least popular after Treasure Island and The Strange Case of Dr Jekyll and Mr Hyde, but it can definitely hold its own.
-4 stars
To the Lighthouse by Virginia Woolf
Set on holiday on the Isle of Skye with Mr and Mrs Ramsay, their children and an eclectic mix of guests. To the Lighthouse explores the tensions and complexities of family life. With themes of passing time, love, death, family and the banality of everyday life, To the Lighthouse is a challenging read. It is broken up into three parts; the first part is about life and the last part is primarily about death. It features a stream of consciousness style and interweaving narrative where there is no clear cut moments when the narrator switches – you sort of have to work out who is talking from the subject matter and voice.
This may be one of my favourite books and I feel like my review is never going to do justice to all the emotions I felt reading this (I cried…). This is some of the most incredible writing ever written and Virginia Woolf writes with such an exciting mix of imagery, solidifying the most beautiful but heart-breaking parts of human existence. Woolf has managed to put into words so many emotions I have felt but struggled to comprehend.
-5 stars
A Midsummer Night's Dream by William Shakespeare
Four young lovers flee from the structured and archaic Athenian society. They become lost in an enchanted wood, seen only by the moon, a band of fairies, the mischevious Puck and the fairy Queen Titania and King Oberon. As Oberon seeks revenge on Titania, Puck starts a magical yet farcical chain of events where all becomes interwoven in a comedic and mischevious play about the intricacies of love, sensuality and dreams.
The plot is fantastical (if silly at parts), the setting and constant comparisons between dreams/reality, night/day… I wish schools would make more of an effort to make studying Shakespeare more enjoyable for kids because there's so much joy and magic in his plays!
-5 stars
The Swiss Family Robinson by Johann D. Wyss
The Robinson's leave their home in Switzerland only to become victims of a shipwreck. They survive and wash ashore an island that they begin to make their home.
I didn't really enjoy this book and I think this is because I had a warped idea of what it would involve. I assumed that a shipwrecked family surviving on a desert island would be full of adventure and a lot of plot about their survival however, this was not this. At all. The general pattern throughout the entirety of this book was: a list of things that they discover, followed by an encyclopedia definition of said thing, thanking God for its discovery and then the killing/use of this thing for their own gain. It felt less like an adventure book than an educational and scientific read. I didn't like that, at the beginning, the dad says that they mustn't kill animals just for the sake of it, but that's all they end up doing in the book and each chapter features at least one killing of an animal that they're not going to eat and that is just for them to show their power.
The book had no plot at all and no character development either. Perhaps this is supposed to work in its favour that all children could slot themselves into the story if they wanted to, but for me it just didn't work. I also believed that this book was set on a Caribbean island but I'm not sure which Caribbean island has jackals, lizards, monkeys, flamingoes, walruses, kangaroos, penguins, lions, tigers… all living in the same environent. This further tells me that this book is not meant to make sense or have a plot but it simply an educational piece of work, teaching children about different animals and plants.
-2 stars
---
What books have you read this past month?
Thanks for reading!
Love, Zoë xx