Hi everyone,
Sorry that my wrap-up is a bit late this month! But I spent last weekend enjoying a lovely short break in Sussex and really wanted to dedicate all my time and enjoyment to that!
I actually read all of the books on my September TBR (this is a first!) and I'm super proud of that. In total I read 8 books this month, ranging from classics to literary fiction, from non-fiction to a short story.
Here's my September wrap-up…
---
The Distance of the Moon by Italo Calvino
The Distance of the Moon was the first work by Italo Calvino that I have read…and I have to say that I am a fan and would love to read more of his work. This collection of short stories/short essays all revolve around the moon (again, I am hugely interested in the moon). These short stories really showcase Italo's amazing and whimsical imagination – these definitely read as fantastical bedtime stories for me. And I hope that doesn't do the work an injustice! His writing perfectly shows how beautiful science can be and how studying the moon can still contain those aspects of mystery and adventure that we dream of as kids, instead of stuffy, rational equations. Cosmicomics is definitely on my TBR list now!

---
The Secret Garden by Frances Hodgson Burnett
This is a re-read for me. I can't exactly remember the last time that I read The Secret Garden but I do remember reading it repetitively as a child to the point where I would call it a rite of passage for me, from childhood to more sophisticated reads. I can honestly say that I've enjoyed reading The Secret Garden more as an adult than as a child, I've understood more of the nuances, read between the lines a little more and gathered more of the sense of the story than ever before. Re-reading The Secret Garden has made me massively happiy and has made me want to re-read some of other older childhood favourites like A Little Princess, The Wind in the Willows and Peter Pan.
I would struggle to try and describe the beauty of this book, if it weren't for this quote which I believe describes the beautiful simplicity of this book better than I ever could:
"One of the strange things about living in the world is that it is only now and then one is quite sure one is going to live forever and ever and ever. One knows it sometimes when one gets up at the tender solemn dawn-time and goes out and stands out and throws one's head far back and looks up and up and watches the pale sky slowly changing and flushing and marvelous unknown things happening until the East almost makes one cry out and one's heart stands still at the strange unchanging majesty of the rising of the sun–which has been happening every morning for thousands and thousands and thousands of years. One knows it then for a moment or so. And one knows it sometimes when one stands by oneself in a wood at sunset and the mysterious deep gold stillness slanting through and under the branches seems to be saying slowly again and again something one cannot quite hear, however much one tries. Then sometimes the immense quiet of the dark blue at night with the millions of stars waiting and watching makes one sure; and sometimes a sound of far-off music makes it true; and sometimes a look in someone's eyes."
p.s. check out my favourite quotes from the last books I read post here

---
Keep the Aspidistra Flying by George Orwell
I went into this book slightly biased, knowing that I would love it. My boyfriend had recently read this book and highly recommended it to me. I'm also a huge, HUGE fan of George Orwell and all his work that I knew that it could never be less than a 4 star read.
This book is set in London in 1936 and follows the life of Gordon Comstock, a self-professed poet who gave up a successful and good-paying job at an advertising company in order to declare war on money and capitalism.
This book and its themes really resonated with me and the daily struggle I find myself in; do you sell out on your dreams and become part of the rat race for money, or do you struggle as an artist (or other) in order to follow your own path in life, whatever the consequences. Do you try to find your own place in the system or do you re-write the system for your own desires? The book comes to terms with feeling stuck in a capitalist system that loves to eat people up and spit them back out again, whilst remaining independent and having a sense of individuality to be yourself and live your life the way you want (and need) to; sticking to your own principles whilst the world tries to morph you into what you are not.
Every time I read another of Orwell's works, I still feel in awe of his intelligence, wit, humour and skill at writing, making you think and reflect on your own situation and own thoughts. This book might even trump 1984 as my favourite Orwell read.

*I would definitely recommend looking up the significance of  the aspidistra plant before reading this book!*
---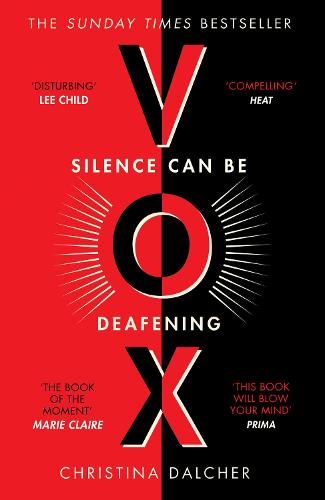 Vox is set in a dystopian world in America where half of the population has been silenced. Women are only allowed to speak 100 words a day and if they go over the limit, they receive a painful electric shock. Jean McLellan, previously a doctor, will not accept this fact and goes out of her way to find an escape route for her and her daughter.
This book had a lot of potential, and whilst I did enjoy it, I do feel like it was missing something for me. Although the storyline was very intriguing and the context of the plot was incredibly current, I think the whole story played-out far too quickly, making it unrealistic. For some reason, I just couldn't warm to Jean and her story.
I did read this book in one day, so although I'm saying it played out too quickly and I couldn't warm to the characters, it was an easy and enjoyable read that I'm pleased I have read.
---
The second book I read this month relating to the moon and astronomy.
This book is full of interesting and intriguing travel-strories relating to James and his relationship to the moon through the medium of the visual arts, history and culture, and his daily experiences. James Attlee's writing is very beautiful and flows lovely; I definitely felt like myself and James were on the same page when it came to our relationship to the moon and what it means to us. At points, the book did get a bit too scientific for me, or chapters that did go a bit too deep into art and symbolism for me to fully enjoy it or relate to it.
Overall, it was an enjoyable read that showcases Attlee's beautiful writing style and his eviable relationship to the moon.
---
To Kill a Mockingbird by Harper Lee
Another re-read for me. I haven't read To Kill a Mockingbird for a fair few years now, and a re-read was long overdue in my opinion. Like the last time I read it, I absolutely loved this book and it had me hooked from beginning to end. I don't think I need to tell you any of the plot for what is probably the most well-known American novel of all time.
It is thought-provoking; I love the characters of Jem, Scout and Atticus; I love the plot and how relevant it still is today; I love Harper's descriptions of the seasons and how the children and inhabitants of Alabama interact with them; I love what this novel celebrates (integrity, bravery, courage and humankind), as well as all that it criticises (racism, segregation, humankind…).
If you haven't already read To Kill a Mockingbird, you need to!
I now need to read Go Set a Watchman asap.

---
Chess for Beginners by David Pritchard
My boyfriend has been intent on getting me to learn how to play chess for some time now, ever since I let slip that I would be interested in learning (I won't lie, it was mainly the chess scene in Harry Potter and the Philosopher's Stone that made me want to learn…).
The book is very useful and a good place to start for learning the basics of chess. Though David Pritchard does say in the introduction that this book is for complete novices and should be easy enough for children to understand, I have to admit that I did struggle to understand certain things at times (which made me feel slightly stupid given that it's supposed to be for children…). In the beginning of the book, Pritchard uses illustrations of chess boards to show the games and moves he discusses, however, towards the end of the book, he removes the illustrations and just uses the codes used in real chess games. This is where it got a bit confusing for me. However, I know that I can re-visit this book as much as I want to if I'm ever stuck – I see it as a chess players bible really!
---
The Yoga Mind by Rina Jakubowicz
This was my first ever book on yoga theory and principles that I've read, and it was a great place to start! Rina covers the majority of the yoga guiding principles, types of yoga and breathing techniques in short chapters that are easy to follow and understand. It's a great reference guide for terms you may hear during yoga, but don't quite understand, or a great starting point for understanding the eight limbs of yoga. I would have liked more insight and information on certain aspects, however I completely understand that this was simply a starting point and I can go further in my study in the future. I learnt a lot more about yoga as a whole, and found that understanding the underlying principles and theories around yoga helped my practice in general and helped myself to relate more to the practice of yoga.
---
What did you read in the month of September?
Thanks for reading!
Love, Zoë xx